WorkMatix Coaching Center
Practical SEO/SEM Coaching Sessions: Why You Need It and How We Can Help
Are you looking for a way to get a leg up on the online competition, but you're not sure how? Or maybe you have an idea, but search engine optimization still feels like a mystery to you. Where do you start? What should you be looking at? How do you know if it's working?
We've got you covered.
Learning SEO can be time consuming, and while there's a lot of great advice available online, there is also some outdated or just plain wrong advice. It can be helpful to have guidance from someone with experience.
We're flexible and have several options for you to learn about SEO, depending on the size of your company and your budget. We offer group SEO workshops and 1-on-1 coaching for individuals and businesses. If you want to do a little each month and see how it goes, we will work with you to make that happen. If you want to put some serious effort into SEO in a short time span, we can help with that too.
SEO coaching can help position your website to grow into a high-quality, authority website.
1-on-1 SEO Coaching
SEO coaching can be a one-time call or scheduled sessions every week or month. We not only give you general advice during your 1-on-1 session, but also specific, actionable strategies geared to your website's unique needs.
Before we get started, we'll have a look at your site for absolutely no charge. If we don't think we can offer anything of value, we won't take your money.
If, on the other hand, we see areas of your site that need improvement, we can discuss what is lacking, why it's important, and how you can fix it. Then we can talk about which of our offerings might be right for you.
"TRUTH BOMB SEO" Coaching Offerings:
SEO/SEM Coaching: Keyword Research, Website Content Optimization, SEO Strategy & Tactics, SEO Tools, Google Ads DIY.
Google Analytics Intermediate: Visitors' Behavior & Website Traffic; Google Search Console Fundamentals.
Note: Because the knowledge level of each person and the needs of each website varies, it's difficult to set a one-size-fits-all duration for SEO coaching.
Pricing for SEO & Digital Marketing Strategy Sessions
Special Offering: Effective Keyword Research for SEO & Strategic Optimization of Website Content.
1-on-1 coaching sessions are conducted in person at ModernWell on Thursdays or virtually via Zoom/Skype.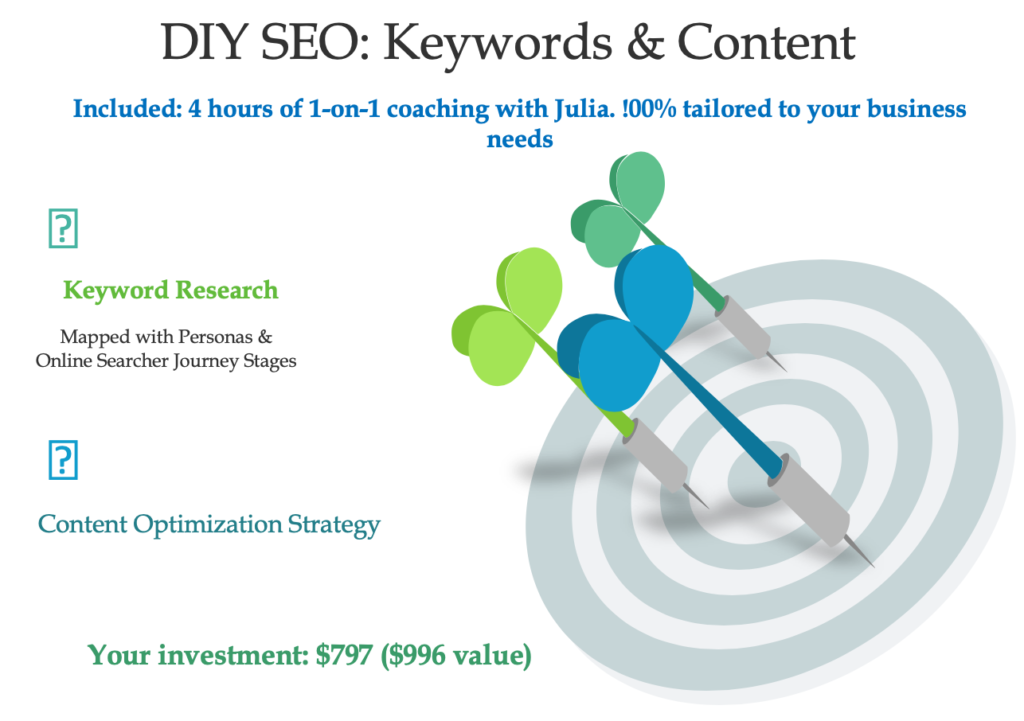 Regular SEO/SEM coaching sessions (1 hour) are conducted live in person at ModernWell or virtually via Zoom/Skype.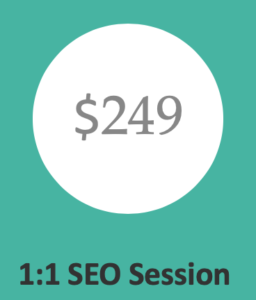 After we look at your site to make sure we can help, we'll discuss your site's needs and provide a quote.
One-time Search Engine Marketing Strategy session is $199/hour. Ideal for business owners who need clarity & direction about SEO or Google Ads investment.
SEO Coach: Do you need one?
I'm an SEO coach, so it might seem odd for me to say you might not need one. But it may be true.
If you are tech savvy, love computers and learning new things, and have some time on your hands, you can probably learn SEO by yourself. There are some great resources to do that in the Blog section, but, first, let's discuss some of the reasons you might want a coach.
You might be busy trying to run a business or growing your company. While you want to learn to do SEO yourself, you might not have the capacity or the time needed to research the latest techniques and how to implement them.
Additionally, an SEO coach can speed up your learning curve significantly. They can identify your site's specific SEO needs and steer you toward which techniques you need most.
So, you'll begin working on what's most important first.
Lastly, technology may just not be your thing. You may need some help figuring it all out, and that's okay. I've been teaching for many years, and I'm here to guide you.
About Me: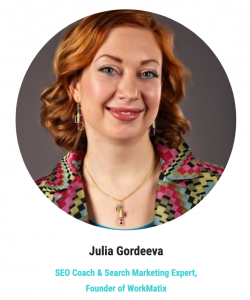 "My name is Julia Gordeeva. I am an expert SEO marketing coach who helps business owners and entrepreneurs learn the ropes in the Digital Marketing and Search Marketing worlds.
During my workshops, businesses learn how to take control of their own SEO results and use the easy-to-digest information to grow their companies.
I enjoy teaching SEO, and discussing how to make people's websites work better.
I want to help business owners and marketing professionals understand the basics of SEO and apply those principles where their websites need it most."
If you have questions or want to learn more about what digital marketing can do for your business, contact us at WorkMatix. We are here as your SEO resource and want to help you succeed.