WorkMatix Academy
Instructor-led, Practical, Hands-On SEO/SEM Trainings: Why You Need It and How We Can Help
Are you looking for a way to get a leg up on the competition, but you're not sure how? Or maybe you have an idea, but search engine optimization still feels like a mystery to you. Where do you start? What should you be looking at? How do you know if it's working?
We've got you covered.
As a search engine optimization company, we at WorkMatix believe—and all the evidence supports—that SEO is vital to almost every business today.
For successful online marketing, every website needs to get the basics of SEO right. Without a solid foundation, you can't begin to build growth.
We specialize in helping business owners & marketing managers understand and implement the basics of search engine optimization.
Learning SEO can be time consuming, and while there's a lot of great advice available online, there is also some outdated or just plain wrong advice. It can be helpful to have guidance from someone with experience.
We're flexible and have several options for you to learn about SEO, depending on the size of your company and your budget. We offer group SEO workshops and 1-on-1 coaching for individuals and businesses. If you want to do a little each month and see how it goes, we will work with you to make that happen. If you want to put some serious effort into SEO in a short time span, we can help with that too.
Live Digital Marketing Workshops & Trainings in Twin Cities, Minnesota.
Our signature TRUTH BOMB SEO/Digital Marketing trainings are intended for business owners & marketing managers who are new to SEO/SEM or those with limited search engine optimization knowledge. If you want hands-on experience applying your newfound SEO/SEM knowledge in a workshop environment and guidance that is free from up-sells and fluff, then we invite you to attend. We will help you understand the basics of search engine optimization and how to apply them to your website.
"TRUTH BOMB SEO" workshop series that are especially designed for small business owners and entrepreneurs.
The Internet changes often, and it's hard to keep up with these changes. As a busy business owner, keeping up with the latest technologies and search engine algorithms is often last on the to do list. However, the digital age is here, and people are utilizing the Internet now more than ever before to find businesses, buy services, and research products. That's why we make it our mission here at WorkMatix to help you learn about search engine optimization and how to succeed digitally as a business owner.

Search Marketing Fundamentals:
TRUTH BOMB SEO: Starting SEO as a Business Owner at ModernWell, Minneapolis, MN (April 17, 2020)-VIRTUAL

TRUTH BOMB SEO: Holistic Online Presence for Businesses May 21st, 2020 at ModernWell, Minneapolis, MN -Postponed

TRUTH BOMB SEO/Google Analytics: Understanding Your Website Audience on May 7th, 2020 @ModernWell -Postponed
"TRUTH BOMB Digital Marketing" training series that are especially designed for marketing managers.
These workshops will be held in Minneapolis/St.Paul and are designed to help local marketing managers identify what search marketing channels could be beneficial for their companies. Entering into the digital world can be incredibly daunting, but the knowledge you gain here will equip you for the task, making it well worth your time.
Keywords Research & Digital Content Optimization:
TRUTH BOMB DM: Part 1: Effective Keyword Research for Digital Marketing & SEO at ModernWell, Minneapolis, MN. Day 1, 3-Hour Live Training.

TRUTH BOMB DM: Part 2: Strategic Content Optimization: Landing pages, Blog & YouTube at ModernWell, Minneapolis, MN. Day 2, 3-Hour Live Training. -POSTPONED till fall 2020

Online Searcher Journey Mapping Workshop. Unwrapping the secrets of SEO: the psychology behind online search to find the perfect keywords. Learn more about this online SEO training to map out your customers' online searcher journey
These workshops are a great way to learn how you can optimize your website with keywords, read and analyze your site traffic and important metrics to better grow your company's business. 
"Turn Your Website into a Sales Tool" 4-hour training is coming in November 2020, Minneapolis, MN.
In this 4-hour training, marketing managers will learn how to transform their website into a selling machine with hands-on experience and expert insights into the following topics:
• Converting visitors into customers;
• Traffic temperature; Paid/Owned/Earned traffic;
• Website visitor journey and UX (user experience);
• Thank-you page and web leads generation;
• Landing pages, CTAs (calls to action); checkout process optimization;
• Digital marketing strategy and sales funnels.
About the presenter: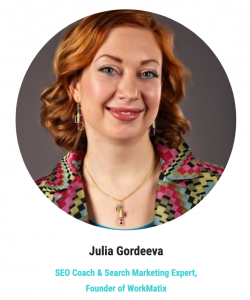 "My name is Julia Gordeeva. I started WorkMatix company 3 years ago to help marketers integrate the behavioral & decision sciences into Search Marketing & SEO through my signature SEO'n'A framework & workshop series.
During my workshops, marketers learn how to take control of their own SEM/SEO results and use the easy-to-digest information to grow their brands.
I want to help business owners and marketers understand the basics of SEO and apply those principles where their websites need it most."
If you have questions or want to learn more about what digital marketing can do for your business, contact us at WorkMatix. We are here as your digital marketing resource and want to help you succeed.