Display advertising can be run across networks such as the GDN (Google Display Network) and numerous other advertising networks.
According to Google, its display network reaches 92% of all Internet users expanding across 2 million sites. Display advertising often won't result in a direct conversion and so should be assessed differently to bottom of the funnel advertising activity, typically judged on last interaction attribution.
Using a mix of upper funnel advertising tactics we will help you nurture more leads toward purchase. And ultimately, this will lay the foundation for sustainable growth.
Our Display (Banner) Advertising services are designed to constantly optimize banner performance, delivering the results your business needs.
Banner Advertising Campaigns are Great for:
Build brand awareness:
Starting a new business or product

Expanding your business into a new area

Introducing customers to what you offer
Influence consideration:
Video ads to sell a product that requires that you educate your customer

Differentiate from what similar advertisers offer

Encourage customers to explore what you offer or run a promotion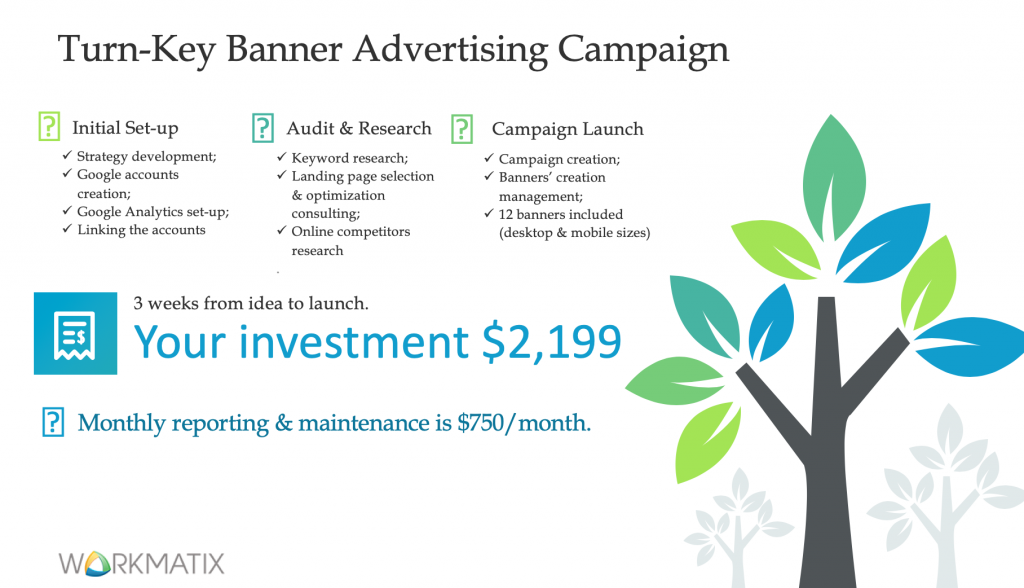 *The advertising budget is not included. Monthly fee is approximate for 1 campaign and will depend on the campaign' s complexity.