How many sales have slipped away because your website visitors showed little interest in your product and did not submit the contact form? You need to maximize your SEO efforts if you want to succeed online. Search engine algorithms, best practices, market trends, and competitors are always on the move. Get better understanding of search engine optimization process and hands-on experience during our SEO Workshops that are held in Minneapolis, Minnesota.
Why SEO is important for business?
If you get it right, SEO can be a fantastic way to drive quality visitors who want to do business with you to your site. Some businesses and blogs can deliver well over half their traffic from SEO through their SEO mastery or the strength of their brand.
SEO is needed to help you get visible in the natural listings of the search engines. It's about getting the organization plus its products and services in front of searchers as they search.
Typically, the website search engine optimization process looks like this:

SEO website redesign consulting services
A great time to hire SEO is when you're planning to launch or re-design you site. That way you can ensure that it is designed to be smart & user-friendly from the bottom up. WorkMatix experienced consultants can guide you during the entire process of the re-design to make sure you don't lose organic traffic after a launch. What is included:
Thorough SEO Audit & Targeted SEO Migration Plan

Migration & Pre-launch Guidance

Launch Management & Post-Launch Consulting
Feel free to drop us a line or give us a call. Our discovery consultation is always free! Check out our blog post on "Undertaking website redesign with SEO considerations in mind".
Your website is launched and you need to start with SEO? Conduct an SEO website audit first!
An SEO audit allows you to keep track of your website performance and ensure you maintain high organic rankings as well as a strong online presence.
This audit will give the opportunity to review existing performance, highlight issues that need to be fixed, identify improvement areas, and establish a baseline to measure future SEO efforts.
Special offer: order the SEO audit for your website today for only $1,250* (was $1,799) and get it done within 2 business days. If you need a little help, we're here for you. Call us at 6123520221, or email info@workmatix.com.
*Offer valid for websites with < 100 pages, not for eCommerce websites.
What Our SEO Audit Includes?
Technical SEO check-up. Technical audit will show if Googlebot and other search engine robots can successfully crawl and index different pages of your site. This involves analysis of re-directs, duplicate content, crawler access and source code.

Keyword identification and prioritization. Developing a list of keywords is one of the first and most important steps in any SEO initiative. The keyword identification process allows us to work with existing keyword target lists to prioritize keywords and keyword themes that are most relevant to your business.

Online presence and competitor benchmarking. Competitor benchmarking involves picking out the different types of competitors and comparing your site practices and performance measures with the most successful ones. Benchmarking is a way to measure your performance against a standard.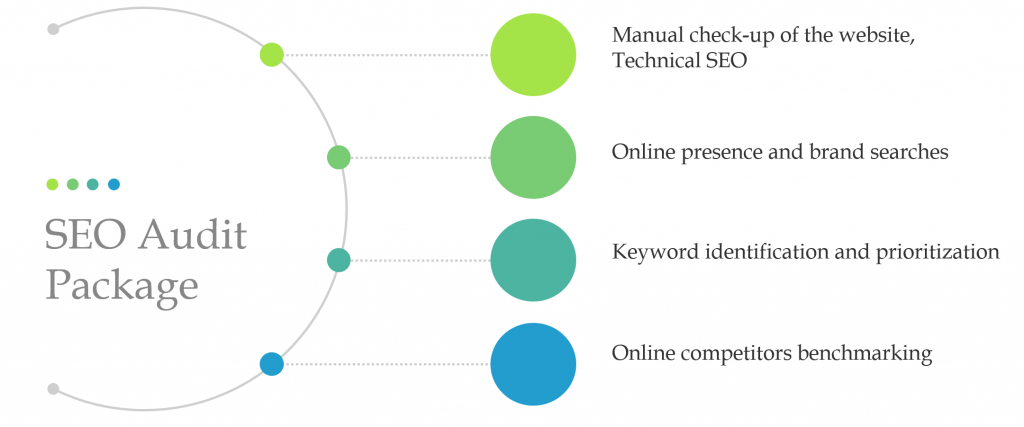 During the research, we'll utilize our 12+ years of search engine optimization expertise compiling the assessment of what that data means for your site and your business.
After the SEO audit completion, the next phase will be "Recommendations and Strategy". This phase will provide you with the insights: a review of the effectiveness of all on-site content, including blog/articles, content marketing assets. Also, will include the scope of work for each website improvement, and other ways to succeed online through digital marketing.
We would be happy to talk to you and explain how to increase the visibility in Google search results. Feel free to drop us a line or give us a call. Our first consultation is always free!
By the way, if you want to do the website audit yourself for free, this is a great tool to explore the strengths and weaknesses of your website or your competitor's website: